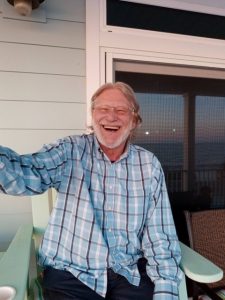 Richard "Rick" Rhea Jones passed suddenly at home in the early morning hours of Monday, May 31, 2021 at the age of 69. He spent his life known as "Richard" to salespeople who we were told to hang up on immediately, "R.R. Rick" on his well-known bold blue font email signature, plain ole "Rick" to most, "Ricki" to family – yes, with an "i" at the end and not a "y" – "Dad" to his children Travis Gray (Kaitlyn Bailey) and Kaitlyn Bishop (an unmarried woman as is printed on all her legal documents and the source of many rolled eyes from her father), and "Papa Rick" to his seven adoring grandchildren Katherine Jones, Kanaan Bailey, Carter and Cruze Lehman, Tatum LeVan, and Kaylee and Bentley McKenzie.
Rick is also survived by his older brother Dale (Tempi) and his loving wife, Cindy S. Jones, who gave him a second family including stepchildren Kristy Lehman, Meaghan LeVan (Billy), and Michael McKenzie (Jessica).
Born on May 1, 1952 in Nashville to Lem Dale and Rebecca Jones, Rick spent most of his childhood getting into trouble with his big brother as they grew up in Oak Hill on Outer Drive. Lem owned a grocery store at 18th and Charlotte, where Dale was the butcher as a pre-teen and Rick delivered groceries on his bicycle to West Nashville neighborhoods. His lifelong love of anything with an engine started at an early age when he purchased a King Midget (micro-car with essentially a lawnmower engine) in which he and his forever best friend Margaret Carpenter rode all around Green Hills as early as 13 and without a license. It's amazing he made it to age 69 as he wrecked more cars and motorcycles than most people own in a lifetime, the first of which being his '67 Corvette that he wrapped around a light pole at the Jefferson Street exit and walked away without a scratch. Later in life, he totaled the front end of his beloved '69 AMX, which sat in a barn for years until he drove by another one in a yard with a wrecked rear end that he bought and subsequently put together to become the one item in his life that his children weren't certain he would choose them over if it came down to it. Either through the Grace of God or teachers who didn't want to deal with him anymore, Rick was a proud graduate of John Overton High School Class of 1970.
At the University of Tennessee School of Architecture and Design, always known as a "frugal" man, he refused to pay rent and therefore bought a trailer that he lived in and rode his Honda 450 motorcycle to and from classes. For extra money for "books," he and his roommate delivered newspapers all over Knoxville out of the back of a hearse. It was during college where he met Susan Gale Gray (Jones), whom he would marry in July of 1977 at the age of 25 and to whom he would be married until 2008. His most cherished college memories include his study abroad programs to Asia in 1974 and Nicaragua in 1976. He graduated with a BA in Architecture in 1976 and his class ring was one of the many pieces of yellow gold jewelry he wore every day.
After a short stint at a drywall company, Rick began his career as the Safety and Loss Control Coordinator with T.W. Frierson Contractor on October 24, 1983, where he refused to wear a tie or show up to work on time ever. He had his own way, and they just got used to it. During his 30+ years with TWF, his impact on the company and construction community cannot be overstated. He was the heart and soul of TWF where he wore many hats in all of his duties, the most famous of which being his "Head Elf" hat when he and his recruited helper elves, Eba Hobbs and daughter Kaitlyn, would answer phones on the switchboard so the Codes employees could enjoy their Holiday party. Although technically and quietly retiring on December 31, 2019, Rick was still an active part of the TWF family and learned to Zoom for meetings and events during Covid, where he would admonish others for not turning their cameras on. You could count on him to be the loudest, most brightly dressed person in the room who ALWAYS had the first question.
He was an active member and served on various boards and committees for TOSHA, CSI, ABC, among others. His favorite annual events included Gingertown, a gingerbread building competition for charity where he participated on the TWF team every year and AGC's BBQ in Red Shoes, where he cheered on the R.C. Mathews team in his red duct tape shoes. His love of helping and teaching led him to serve as a mentor to Cane Ridge and Hunters Lane High School students for over 15 years with ACE Mentor Program, which introduces high school students to careers in the architectural, construction management and engineering professions, and supports their higher education goals through merit-based scholarships.
Without a doubt, the most important thing to Rick Jones was his family. He and Cindy found each other and were married on May 2, 2019, which brought him some of the happiest days of his life. They did everything together – cheered on his beloved Tennessee Titans every Sunday (being a season ticket holder since the team came to Nashville), joining motorcycle and car clubs including AACA, Honk Rattle & Roll, SCRC #6, AMO Club, traveling all over for fun events, and restoring the family's beach house in St. Joe Beach, Florida after Hurricane Michael in 2018.
He remained close to his multitudes of cousins on both sides of the family – The Joneses and the Dements – and brought everyone together for a big Thanksgiving every year. He was Kaitlyn's assistant coach on the Bar-B-Cutie Wildcats travel softball team for over 10 years, and later became "Team Dad" for the Brentwood High School Bruins softball team where Kaitlyn's moniker of "Number 9" was born. The lights of his life were his grandchildren, to whom he was Papa Rick and ALWAYS having fun. Rick left us all too soon, but he lived life so fully that our memories of him will last us forever.
A gathering of family and friends will be held Thursday, June 3rd from 4-7 and Friday June 4th from 11-1 followed by a service at 1 at Woodlawn Funeral Home – 660 Thompson Lane. Dress comfortably; Titans, Vols, construction or brightly colored clothing is welcomed. To share a memory of Rick, please find his page at dignitymemorial.com. In lieu of flowers, please send donations to ACE Mentor Program of Greater Nashville, Inc.
Check:
ACE Mentor Program of Greater Nashville, Inc.
Attn: April Blalock
2995 Sidco Drive
Nashville, TN 37204
Note: In memory of Rick Jones
PayPal/Credit Card:
http://acementor.org/nashville
Click "Donate"
Can note "In memory of Rick Jones" in memo field.
Fond memories and expressions of sympathy may be shared at www.Woodlawn-Roesch-PattonFH.com for the Jones family.