Welcome to the Honk, Rattle and Roll Touring Region of the Antique Automobile Club of America! Use the menu above to learn more about our unique club and find our why our members make this the most enjoyable antique and collectible touring car club of middle Tennessee!

Click the image above to read about the "Car of the Tour"
New Members
Welcome to our newest members!
| | |
| --- | --- |
| Name | Joined |
| Bob and Marlyn McMullen | June |
| Billy and Sheri Pitts | June |
| George and Susan McGraw | April |
| Caitlyn and Tory Dahlenburg | April |
| Bob and Anne McReynolds | March |
| Travis and Ginger Bossier | March |
| Dan Lenzi | March |
Upcoming HRR Events
Click the title of the event to see more details
Oct
19
Sat
HRR 2019 October Driving Tour
Oct 19 @ 8:00 am – 4:00 pm
Our October 19, 2019 tour will take us from Tom Collins' Loafers' Glory to Shelbyville, Tennessee.  We will be leaving Tom's at 8:30 am sharp and arriving at Street Rods by Michael at 10:00. We will offer a morning venue, lunch and an afternoon venue. 
Our morning visit will be at Street Rods by Michael in Shelbyville.  Michael & his wife Rose have been in business for over 25 years and have built many award winning cars & trucks.  They build everything from the frame up through painting. I don't think that you will be disappointed as to Michael's capabilities in building, designing and developing. Check out his website address http://www.srbymichael.com/ .  They are located at 120 Deery Street, Shelbyville, TN. 
After visiting Michael, we will have lunch at 12:00 noon at Legends of Shelbyville, located at 1609 N Main St, Shelbyville, TN 37160.  They have a lot of space for us and offer a burger special ( any of their Burgers, no sides ) for $3.99.  You might check out their website at http://legendssteakhouse.com/menu0911/Legends-Shelbyville-Menu.pdf .  We will need an head count on the Monday, October 14 before the event, so please email Robertshadoin3@gmail.com or call 615.584.4848 so that we can add your name and number of folks to our list.  We will confirm the headcount to the restaurant on the 19th, Saturday morning as we leave Loafer's Glory.
After having a great lunch at Legends, we will travel to the late Garland King's Private Collection arriving around 1:30 pm. His collection is now being managed by his son Gary King.  Gary and his wife will discuss the collection with us and be our hosts. The extensive collection includes classic cars, metal toys, signs, photographs, receipts, pencils & hundreds of other items, making it perhaps the most complete collection of Bedford County history in existence. The museum is in an expansion mode with the purchase of the school behind the current museum.  The new building will eventually house Garland King's current collection as well as Gary King's and Gary's uncle's collection, as well as the Fire Trucks in storage. There is no charge for this event.
Please don't forget to bring lawn chairs and to wear you Honk Rattle and Roll Name Tags and apparel.
Nov
12
Tue
HRR 2019 November Dine Out
Nov 12 @ 6:00 pm – 9:00 pm
Last Event
July Dine-Out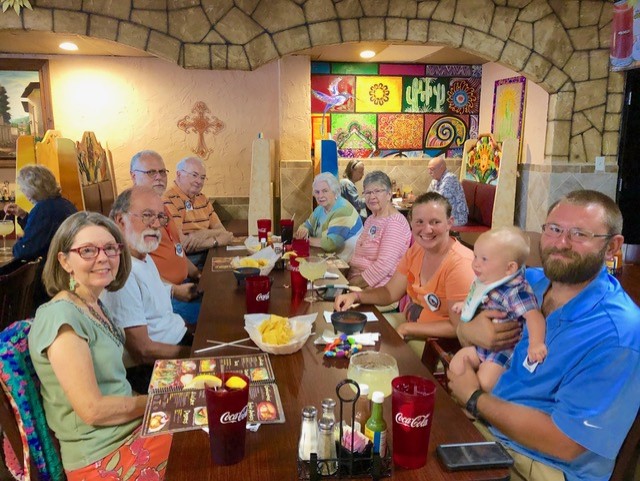 Click here to read the details and see more pictures!
Thanks for visiting!